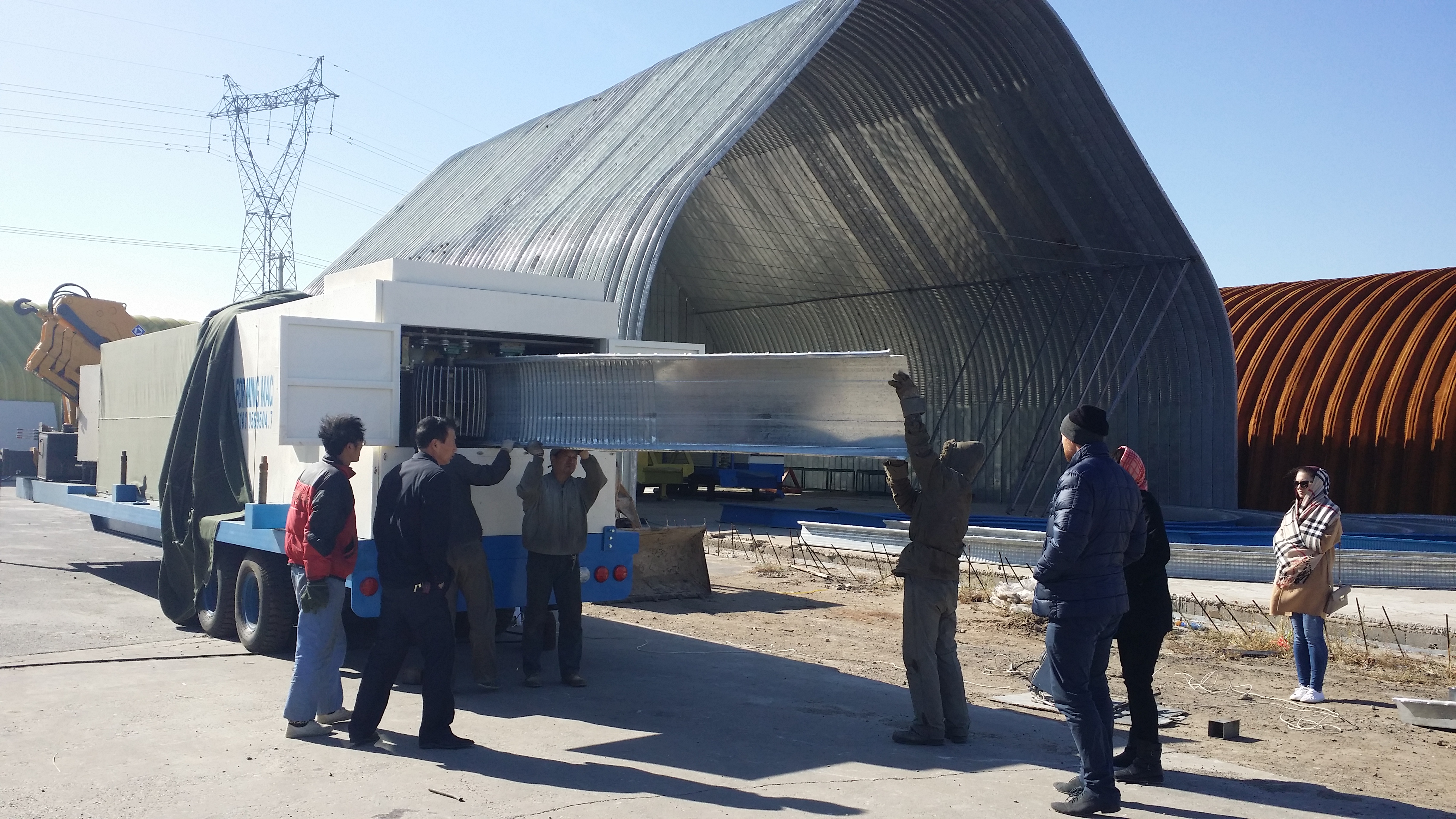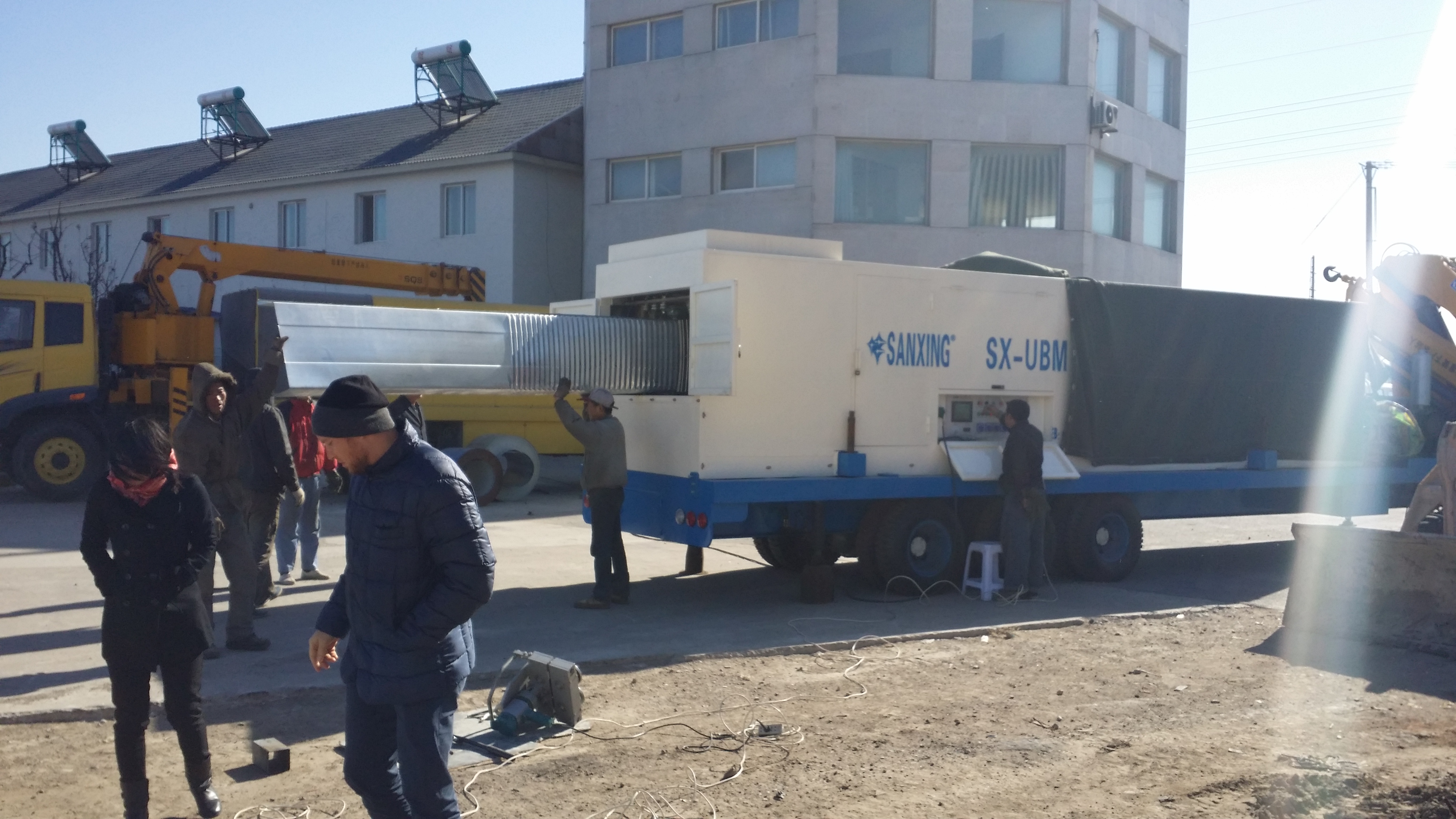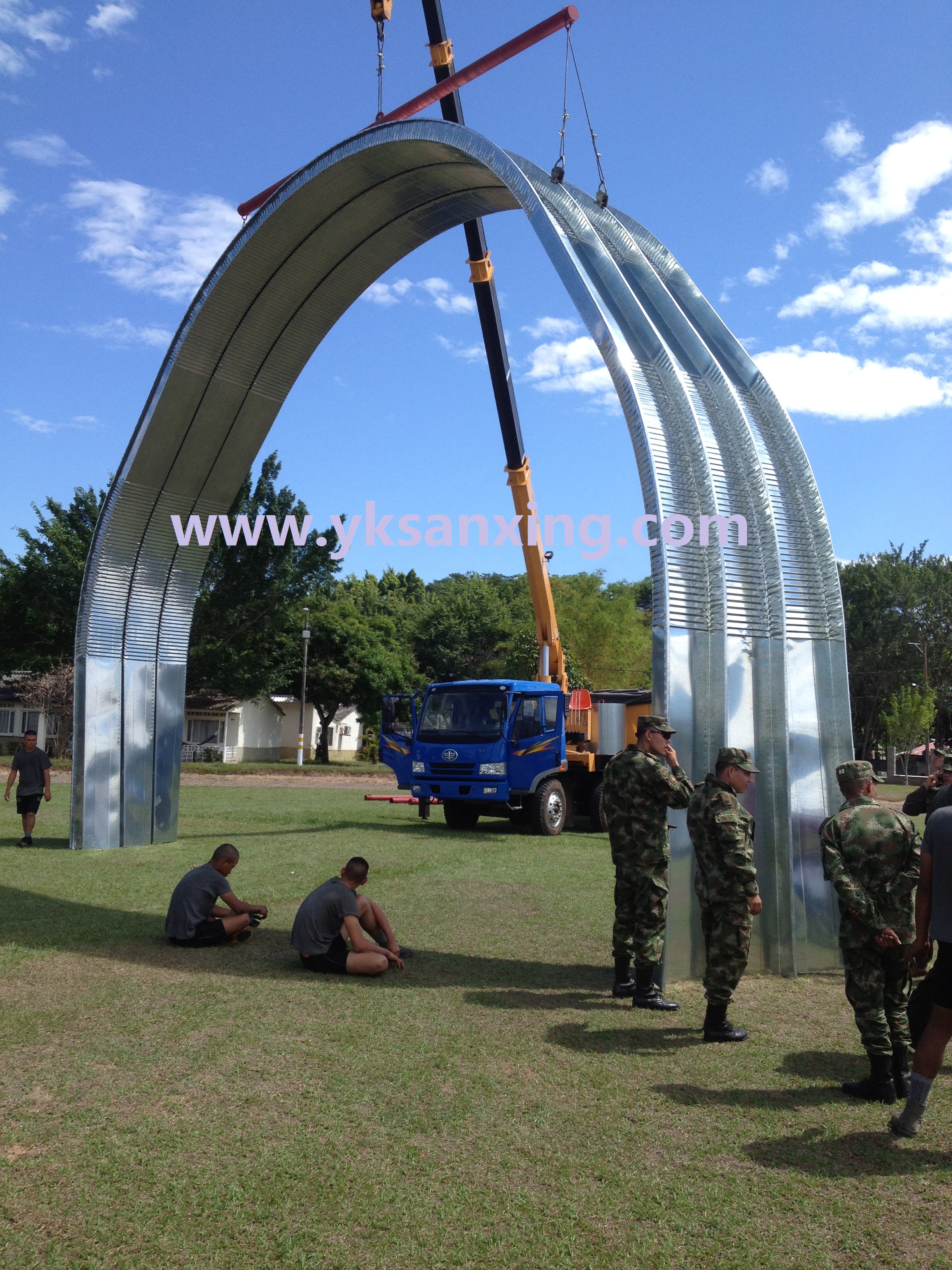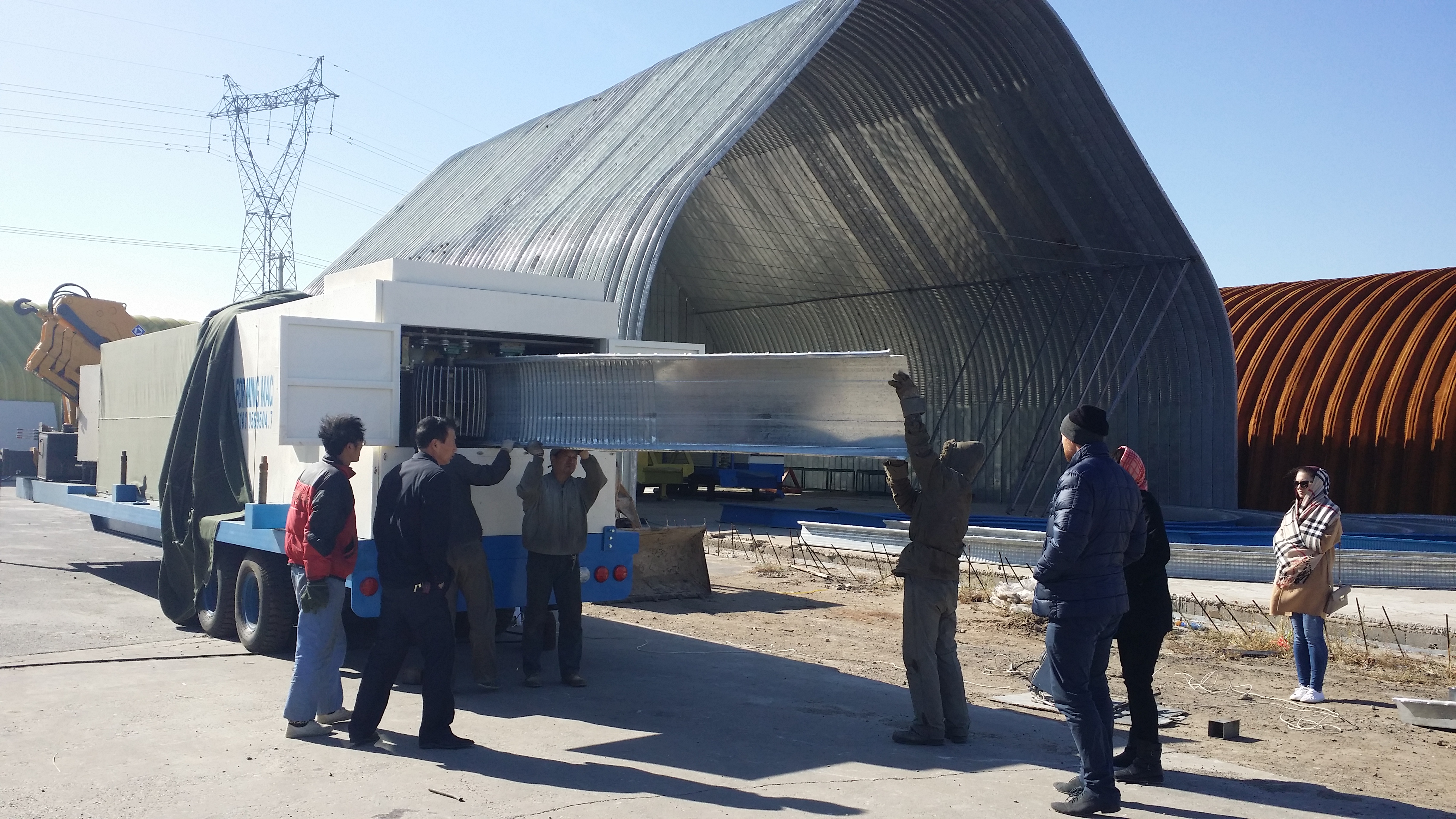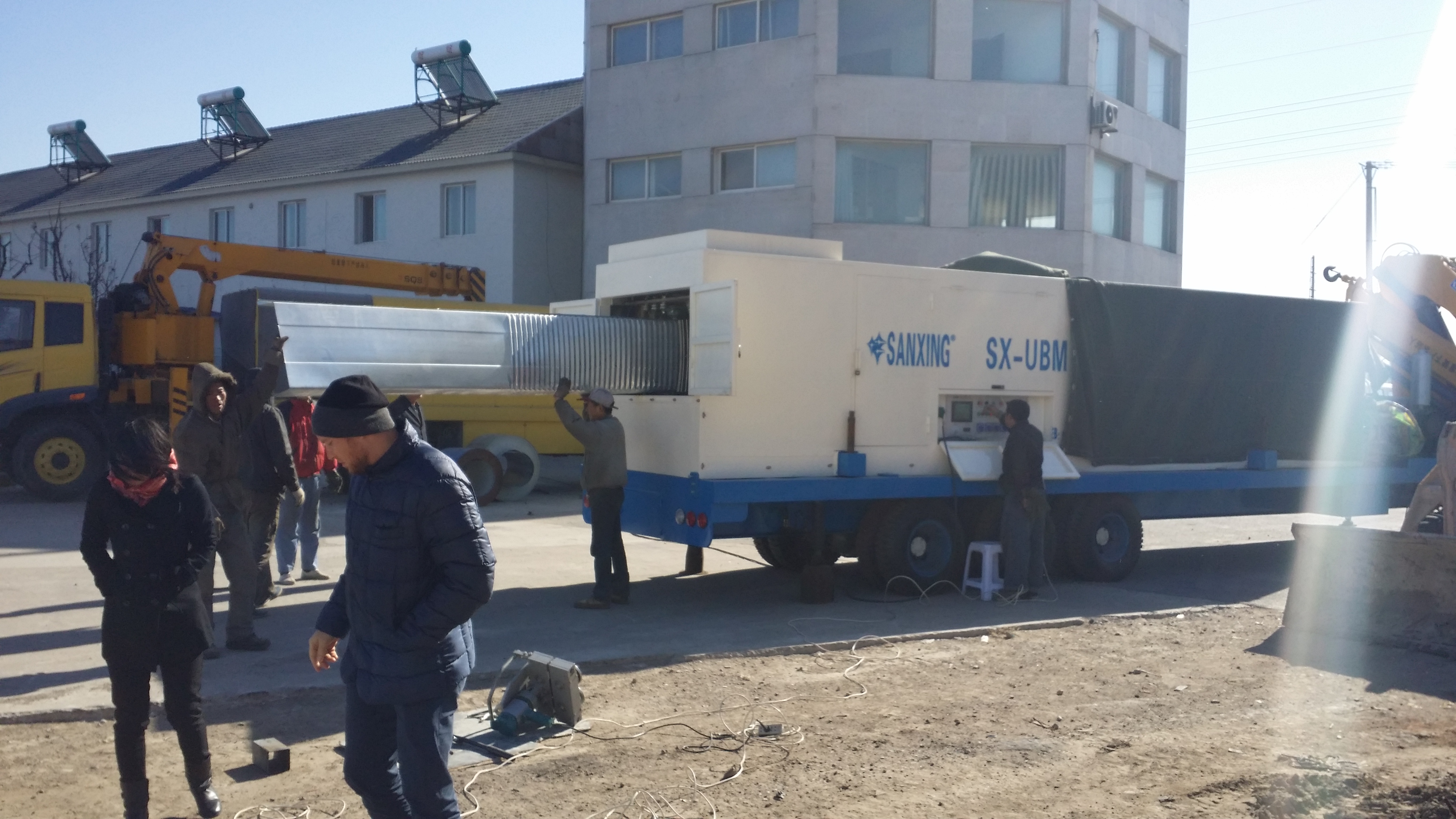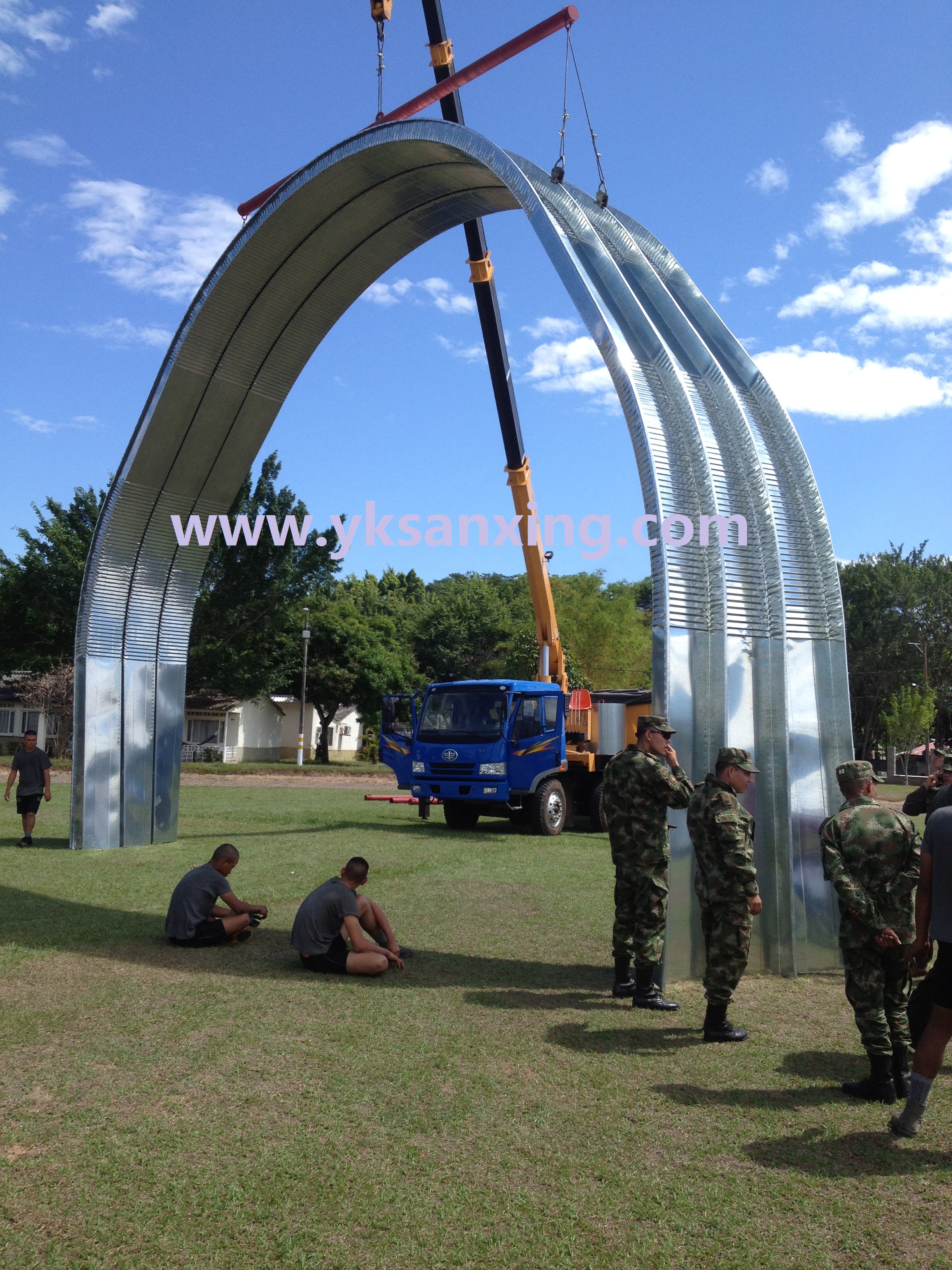 UBM 550 Ultimate Building Steel Structure Building Machine
CCCME Member
Recommended by CCCME
Product Details

Company Profile
UBM 550 Ultimate Building Steel Structure Building Machine
invention patent number: ZL 201010569504.7
UBM cold bending forming machine is a separate trailer-type mobile factory for the production of steel structure buildings directly in the construction site. The building material is steel coil. The roller press forming machine was towed to the construction site and installed by a small team of personnel close to the construction position. A set of machines works throughout the production line for forming, bending and cutting. The arc panel has traditional gable shape (straight side wall and slope roof), circular double radius shape (straight side wall and wide arc roof section) or circular arc shape with fixed radius. The finished panel was transported to an assembly area, connected in groups of three pieces, completely using the patented electric seaming machine. The seam connection is waterproof without bolts or other fasteners. After the three boards are assembled, hoist with a crane and then place the panel part on the pre-prepared foundation. Repeat this process until the required building length is reached and the length is not limited. The interior building is the same as any other prefabricated building and can be added with insulation, electricity, plumbing, lighting, ventilators, heating and cooling systems and partitions.
Upgrading of UBM equipment of Sanxing
First generation
Two-step production:
Step 1: Advance plate -> forming -> shear
Step 2: Feeding ->bending
Second generation
This is a new production process with one step for straight and curved plates. Compared with the first generation, the cost of labor is reduced by 30%, and the speed of work is increased by more than 20%
Feeding -> forming --> shearing --> bending
Third generation
By using diesel vehicle and 8 T crane, the truck can be driven directly to the project site.The required panels can be completed in one step, and there is no need for workers to hold and move the panels.. When the panels are ready, the crane on the machine can easily lift them up and fix them in place. Compared with the first generation, the labor cost is reduced by 80%, and the working speed is increased by more than 70%.
常规型号 Regular Models
主要型号

Main Type

进板宽度

Feeding Width

出板宽度

Effective Width

成型槽深

Groove Depth

用板厚度

Thickness

适用跨度

Proper Span

板材利用率

Usage Rate

SX-600-305

600mm

305mm

109mm

0.6-1.5mm

≤26/18m

51%

SX-625-330

625mm

330mm

108mm

0.6-1.5mm

≤26/18m

53%

SX-914-610

914mm

610mm

203mm

0.8-1.5mm

≤36/20m

67%

SX-1000-400

1000mm

400mm

253mm

0.8-1.5mm

≤40/28m

40%

SX-1000-550

1000mm

550mm

187mm

0.8-1.5mm

≤36/20m

55%

SX-1000-630

1000mm

630mm

225mm

0.8-1.5mm

≤38/22m

63%

SX-1000-680

1000mm

680mm

223mm

0.8-1.5mm

≤30/15m

68%

SX-1250-500

1250mm

500mm

295mm

0.8-1.5mm

≤45/30m

40%